MONACO
This project utilised ARGO floats in the North Atlantic to understand the links between the MOC and the meridional heat transport (MHT). MONACO is an acronym for Meridional Overturning circulation at 26°N and the North Atlantic heat COntent.
This project was presented at a recent conference in Montreal by Neil Wells, Vladimir Ivchenko, Joel Hirschi, Brian King and Simon Josey.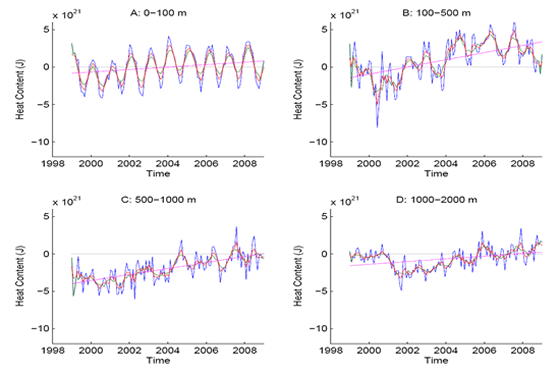 For the whole North Atlantic in the layers between 0-100m, 100-500m, 500-1000m and 1000-2000m there are positive trends in heat content. The main contribution to the warming is in the upper 1000m. All values of the trend are significant at the 95% level of significance.
For further information on MONACO at NOCS please follow this link.