Oxygen sensors
Dissolved oxygen data is useful for understanding water mass ventilation and can be used in ocean biogeochemical models, amongst other things.
The SBE 43 oxygen sensor works by measuring the electrical current drawn by a working electrode to reduce oxygen molecules that diffuse across a polarographic membrane separating the electrode from the seawater. The output voltage from the electrode is proportional to the temperature-compensated current flow resulting from oxygen reacting inside the membrane. The oxygen concentration of the ambient seawater is derived from the flux of oxygen molecules across the membrane in an algorithm that takes account of how the permeability of the membrane is influenced by temperature, salinity and pressure obtained from CTD measurements.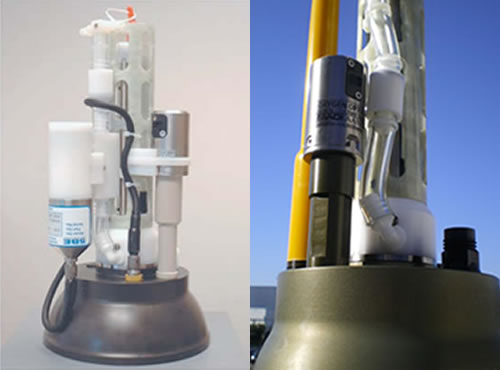 The main limitations in using such a sensor with the autonomous Argo sampling regime. Sensor drift is an inherent problem that results in reduced resolution and accuracy. Sensor drift, resulting in reduced resolution and accuracy, is one of the main limitations in using such a sensor with the autonomous Argo sampling regime. Drift resulting from changes in electrolyte chemistry is normally consistent and predictable but can be accelerated if the micro-environment around the sensor has unusually high or low oxygen conditions. This can be caused by biological fouling. Non-biological fouling (e.g. from an oil slick) will result in underestimations of concentration.
The Aanderaa optode is used on some floats in place of the SBE 43 as it offers better long term stability, improved accuracy at low oxygen concentrations and is more robust against biofouling. The optode utilises the tendency of certain substances to quench fluorescence. A gas permeable sensing foil embedded with a special platinum porphyrin complex (the fluorescence indicator) is attached to a window that provides optical access for the measuring system from inside a watertight titanium housing. The foil is excited by modulated blue light and the phase of a returned red light is measured. The absolute oxygen concentration can be determined from the linearised difference between the two phases after temperature compensation.

The oxygen sensors currently used have a 3 year life and significantly reduce float lifespan through increasing energy consumption.
Therefore, the long term stability of these sensors in providing reliable oxygen data and accurate delayed-mode quality controls are areas for further development.